Our Story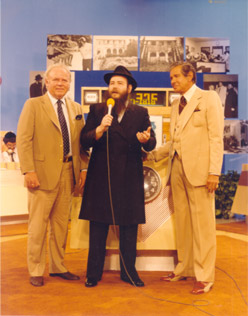 Carrol O'Connor, Rabbi Cunin & Jan
Murray on the live set of the very first
Chabad Telethon, September 8th, 1980
The first Telethon aired in 1980, after tragedy had struck Chabad. A devastating fire swept through the organization's headquarters in Westwood, destroying the Chabad House and claiming the lives of three young men.
To help recover from the disaster, a special event was planned: a live, televised fundraiser featuring actors, musicians, community leaders and concerned citizens.
Joined by the rabbis of Chabad, the guests would ask for community support to help the organization rebuild.
Hosted by actor Carroll O'Connor and comedian Jan Murray, the Telethon was an instant hit. It received such an overwhelming viewer response that the one-time event became an annual tradition, and now serves as Chabad's biggest fundraiser each year. And the image of the dancing rabbi--symbolic of the happiness felt when people perform good deeds--has become a pop culture icon.