About the Telethon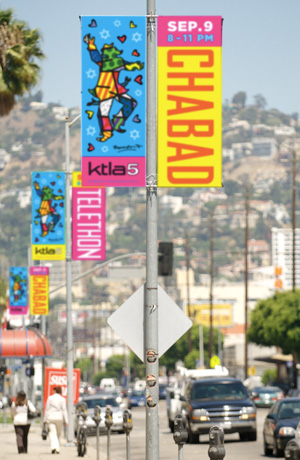 The Chabad "To Life" Telethon has become famous worldwide as a joyful celebration of life and a reminder of the power of good deeds.
Telethon donations range from a single dollar to tens of thousands. Supporting the largest network of educational and nonsectarian social services under Jewish auspices on the West Coast. Countless people of all backgrounds and beliefs benefit from these community services -- whether it's a child who needs an education, a senior citizen who needs a friend, or an addict who needs a second chance.
Over the last 40 years The Telethon raised millions of dollars.
Funds generated by the Telethon support a range of Chabad's efforts, which include: Education, Summer Camps, Youth Programs, children with special needs, Drug and Alcohol Rehabilitation, Community Outreach, Crisis Intervention, AskMoses.com and many others.
Over the last 40 years, the Telethon has helped Chabad forge a unique partnership with actors, musicians, athletes, civic leaders and corporate executives. Featuring star-studded lineups and the endearing "dancing rabbis," the Telethons are special events that have proven consistently popular with audiences. Click here for the Top Ten Celebrity Moments »
Past participants include Kareem Abdul-Jabbar, Bob Dylan, Dennis Franz, Whoopi Goldberg, Anthony Hopkins, Magic Johnson, Jimmy Kimmel,  Bernie Mac, Howie Mandel, Matisyahu, Edward James Olmos, Mike Piazza, Adam Sandler and Martin Sheen. The casts of numerous television shows, including 'Friends' and 'Everyone Loves Raymond,' have also made appearances.
"Whether it's a child who needs a nurturing education, a senior citizen who needs some companionship, or an addict who needs a second chance, there are so many members of our community who are in desperate need," said Rabbi Cunin. "Chabad has always been blessed by caring and compassionate supporters, and we want the Telethon to inspire them to come together to dance, to sing, and to reach out to those less fortunate."
Video
The Telethon: In 2 Minutes

Flashback: Chabad Telethon 1980

30 Years of Chabad Telethon Classic Moments



How Do You Pronounce Chabad?
Larry King introduces a clip on the annual Chabad Telethon featuring some of the world's most famous celebrities as they try their best to pronounce "Chabad". Some of those featured in the clip are: Steve Allen, Levar Burton, President George Bush, Dom Deluise, Craig Ferguson, Brad Garrett, Al Gore, Bob Hope, Jack Klugman, David Letterman, Jan Murray, Leonard Nimoy, Conan Obrien, Betsy Palmer, Regis Philbin, Ray Romano, Dick Shawn, Judy Norton Taylor, Dick Van Patten, Jon Voight, Gene Wilder and Robin Williams. However you pronounce it, thank you for your kind support. "Le'Chaim!"