Top Ten Celebrity Moments
This article by Naomi Pfefferman, first appeared in the August 26th 2010 edition of the Jewish Journal.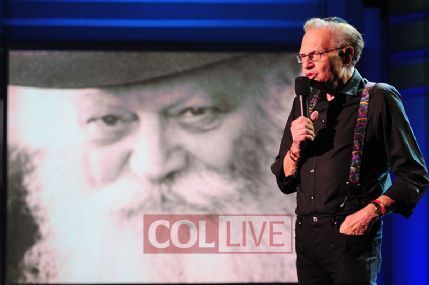 Larry King hosts Chabad Telethon
What do Robin Williams, Adam Sandler, James Caan, Martin Sheen, Adam Lambert, Sammy Davis, Jr., Al Gore, Jerry Lewis and Bob Saget have in common – besides show business? Each has appeared on the Chabad "To Life!" Telethon, which will celebrate its 30th anniversary show on Aug. 29, from 8 p.m. to 11 p.m. on KTLA, with no less than CNN's Larry King as host. King will preside along with telethon founder Rabbi Boruch Shlomo Cunin of West Coast Chabad—plus multiple celebrities and dancing rabbis who will grace the set as usual. Tune in to see King interview stars like Sheen about why they've supported Chabad, as well as telethon highlights from the past three decades. Here are some of the top 10 celebrity moments – in no particular order – as related by telethon producer Chaim Marcus:
- Adam Sandler spoke in 2004 wearing a Chabad telethon cap, glasses, a well-worn T-shirt and lots of beard stubble: "I know my mom's watching right now, and she's probably saying, 'Adam, did you have to wear that shirt?' Mom, I didn't shave – I know you're wondering about that. But look at the [very long-bearded] rabbis!'" Sandler also deadpanned to Cunin et al: "I watched the telethon last year and you're dancing even better this year."
- NBA champion Jordan Farmar shot free-throws to raise money – at $1,800 a shot – in 2008, managing to land 37 baskets in 90 seconds despite the frenetic klezmer music playing in the background and rabbis shouting things like, "What a beautiful mitzvah this is!" and "Plenty of gifts, my man!" Not to mention actor Tom Arnold running around and joking that his Chabad telethon cap was great for hiding his hair transplant plugs. When asked how many shots he could make in one-and-a-half minutes, Farmar replied: "Man, however many it takes to save the world." Rabbi Chaim Cunin, the telethon's executive producer, later told the Journal: "[Farmar] raised $66,600 in 90 seconds. How many people can say that? He made 37 free throws in 90 seconds. That is a lot of mitzvahs, as we say."
Story continues after the jump.

- "It's good to be here at the annual Saint Patrick's Day Telethon!" Carroll O'Connor joked on the first Chabad telethon, which aired on Sept. 8, 1980. So how did the non-Jewish actor get involved with the organization? After the Chabad House in Westwood burned down in 1980, O'Connor chanced to drive by the gutted facility. "He met with Rabbi Cunin and discovered the work that Chabad was doing," Marcus said. "Initially Rabbi Cunin had no idea who he was, because [like most Chasidim] he does not own a TV set. But Mr. O'Connor said, "I'm an actor, I work in television, maybe we could do something together to raise money?" Thus the Chabad Telethon was born, which went on to raise some $150 million over 30 years, Marcus said.
Story continues after the jump.

- "You've got to believe in Sha-bad," Bob Hope said on a video in 1991, mispronouncing the name of the organization as many celebs – Jewish and non-Jewish—have done over the years. "No matter how many times we tell him – Chabad, he can't get it," then-host Jan Murray quipped of Hope. This year's telethon will feature a video of all the stars who have botched the name, including Jack Klugman and even Larry King himself, who Shabad-ed it while rehearsing last year's show. "I said, 'Larry, it's chhhh,—you know, like Chhhaim, Chhhannukah, chhhutzpah, chhhhallah,'" Marcus recalled. "Larry said, 'OK, I got it'—and then he Sha-baded it again. I said, "Larry, it's Chhhabad!" And he looked at me and said, "I know how to pronounce Chabad! I have a daughter named Chaya!"
- In the mid-1990s, legendary rocker Bob Dylan and his Chasidic son-in-law, musician Peter Himmelman, belted out "Hava Nagila" along with actor Harry Dean Stanton, who recently portrayed a crazed polygamous cult leader troubling Bill Paxton and his secretly polygamous Mormon brood on HBO's "Big Love." All three sang, with Stanton and Himmelman playing guitar. Chabad rabbis had helped Dylan return to Judaism after the musician embraced Christianity for a time. Dylan, in turn, embraced Rabbi Cunin on the show.
- Sammy Cahn, the Oscar-winning lyricist, songwriter and musician who made hit recordings with Frank Sinatra, Dean Martin and Doris Day, riffed on his ditty, "High Hopes" in 1984, which he rewrote as "Chai Hopes:" "We had a fire you know/That's why we're making this show/We need your dough/We've got Chai hopes," Cahn sang. The lyricist originally wrote the song with Jimmy Van Heusen for Sinatra in the late 1950s.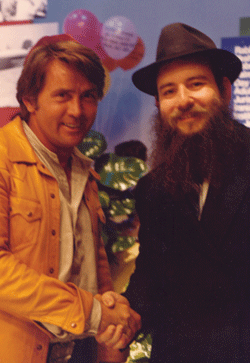 Martin Sheen and Rabbi Cunin on the First Telethon, September 8th 1980
- Old Blue Eyes himself phoned in a pledge to the telethon, as did the late, great actor Marlon Brando – The Godfather and Stanley Kowalski to cinefiles – who called in at least five times over the years. Other caller-inners have included Barbra Streisand, John Denver, Van Halen's David Lee Roth and comedian Richard Lewis.
- "Sam-ela, Sam-ela," Jan Murray would say when Rat Packer Sammy Davis, Jr. (a convert to Judaism) visited the show. "I'll tell you the emes," Davis, in turn, would say when lauding Chabad. In addition to performing his iconic "The Candy Man," peppered with Yiddishisms, on the telethon, he once personally handed Cunin a hefty check on the show.
- Actor John Voight - - who made his first telethon appearance in 1986 – has told the tale of how a non-Jewish actor like himself became enamored of Chabad. "Jon was meeting with Rabbi Cunin in his office when a family came to the door and said they had no food or furniture, and that they especially needed a couch," Marcus said. "'Jon, can you stand up?' Rabbi Cunin asked. Whereupon the men carried the couch downstairs, and Voight put the couch in his own pickup truck, to deliver to the family's home. From that moment on, Jon said, 'This [Rabbi Cunin] is my kind of guy.' He's adopted Chabad and vice-versa."
- Writer-director Tom Kramer ("Fridays," "Curb Your Enthusiasm") ran to the telethon set immediately after his own wedding in 1995, still wearing his tuxedo, with his bride (in her white gown) in tow. "Tom Kramer had had a meteoric rise to fame in the 1980s, but by 2002 he was homeless, on drugs and his life was in shambles," Marcus said. "Someone told him about Chabad's drug rehabilitation program, and he went into the program and got clean. Three years later, he told his story on the telethon, on the night of his wedding. One of the writers from "Curb Your Enthusiasm" happened to be watching the show, realized Tom was back, and invited him to direct an episode."
You can also watch the telethon live online by visiting tolife.com