Telethon Team
Executive Producer
-

Rabbi Chaim Cunin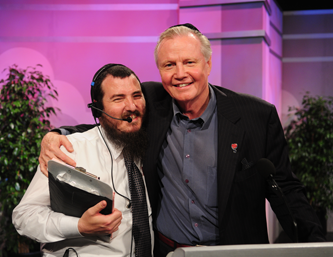 Executive Producer Rabbi Chaim Cunin with Academy Award winner Jon Voight. PHOTO: Israel Bardugo
Rabbi Chaim N. Cunin serves as the CEO of Chabad of California.

Born and raised in Los Angeles, Chaim studied at Los Angeles' Yeshiva Ohr Elchonon Chabad, and went on to advanced rabbinic studies at Oholei Torah in Brooklyn and The Rabbinical College of America in Morristown, NJ. He received his rabbinic ordination from the Chabad Rabbinate in Israel.

Chaim has been a rabbi at the Chabad House in Westwood, the editor of Farbrengen magazine, co-creator of the highly acclaimed Kehot Chumash and the Executive Producer of the Chabad Telethon. He has also spent extensive time in both Moscow and Washington, DC in the ongoing effort to retrieve the Schneerson Collection of sacred texts. He now lives in Los Angeles with his wife, Tova, and their children.
Producer
-

Chaim Marcus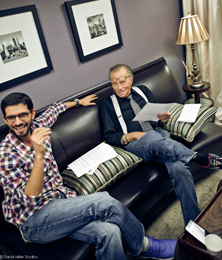 Producer Chaim Marcus and Larry King enjoy a light moment before Chabad Telethon 2011. PHOTO: David Miller
Chaim Marcus is the CEO of Marcus Advertising, an award winning full-service ad agency in Marina del Rey and producer of the annual Chabad Telethon. He also serves on the executive board of three Southern California charities. Mr. Marcus has worked closely with Larry King, Howie Mandel, Jordan Farmar, Ron Artest, Jon Voight, Elliot Gould, Tom Arnold and Lou Gossett Jr., raising millions of dollars for Southern California charities.
Co Chairman
-

Mr. Jerry Weintraub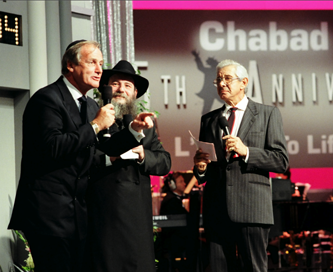 Telethon Chairman Jerry Weintraub makes an impassioned plea during the 1989 Telethon.
Jerry Weintraub is one of the most influential and successful people in the entertainment industry, with a career spanning more than 50 years and encompassing the genres of feature films, television, theatre and music.
He most recently produced the caper comedy "Ocean's Thirteen. The film reunited director Steven Soderbergh and an all-star ensemble cast, including George Clooney, Brad Pitt, Matt Damon and Don Cheadle. Weintraub had previously produced the hit remake of the Rat Pack comedy "Ocean's Eleven" and its sequel, "Ocean's Twelve," both directed by Soderbergh. Additionally, Weintraub produced the family film "Nancy Drew," starring Emma Roberts as the intrepid teenage detective.
Brooklyn-born and Bronx-bred, Weintraub produced the legendary Elvis Presley, Frank Sinatra and helped boost the careers of such renowned artists as Bob Dylan, Led Zeppelin, Neil Diamond, John Denver, The Carpenters and The Beach Boys.
In addition to his professional endeavors, Weintraub is well known for his philanthropic efforts on behalf of a wide variety of worthwhile causes, ranging from health concerns to education to the arts and more. He most recently joined forces with George Clooney, Brad Pitt, Matt Damon and Don Cheadle in "Not on Our Watch," a humanitarian campaign to end the genocide in Darfur.
In 2009 Weintraub was honored by UNICEF as Man of the Year with the organization's Danny Kaye Humanitarian Award for his philanthropic contributions. In 2010 he was awarded the Muhammad Ali Humanitarian Award at Celebrity Fight Night XVI, an event that has raised nearly $60 million to benefit the Muhammad Ali Parkinson Center.
Jerry joined the Chabad Telethon team as co-chairman in 1984.
Co-Chairman
-

Mr. Marshall Grossman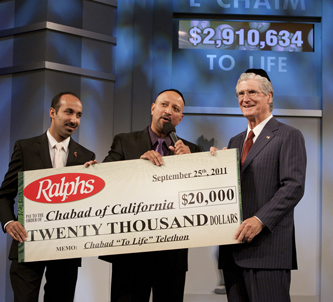 Telethon co-chairman Marshall Grossman with Ralphs representative Jose Martinez and friend. PHOTO: Menachem Krinsky
Marshall has been honored with No. 1 rankings by Chambers Global in Litigation (National Trial Lawyers) and by Chambers USA in Commercial Litigation, and a top ranking in Entertainment and Media Litigation. For over 20 years, he has been listed in the Best Lawyers in America (Bet-the-Company Litigation and Commercial Litigation). For several years, including 2011, he has been listed among the "100 Most Influential Lawyers" in California by the Daily Journal. Marshall is named one of LawDragon's 500 "Leading Lawyers in America." Marshall is profiled as the cover story in the 2010 edition of Southern California Super Lawyers magazine. Marshall is among the few lawyers to be top ranked by Chambers in three different areas of litigation.
From 2001–2010, he served as a commissioner (and also served as chair) of the California Commission on Judicial Performance.
Marshall joined the Chabad Telethon team as co-chairman in 1993.
Creative Executive – Mr. Kevin Bright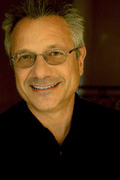 As one of the three original executive producers behind the highest‐rated comedy on television— NBC's Friends—Kevin S. Bright (along with creators and fellow executive producers Marta Kauffman and David Crane) has gained recognition as one of TV's most talented producers.
During its 1994–2004 run, Friends received 44 Emmy Award nominations, winning or Outstanding Comedy Series in 2002. Mr. Bright directed more than 50 episodes of Friends, including the season finale of each year.
He also produced specials starring Johnny Cash, Bill Cosby, and George Burns as well as comedy specials starring Robin Williams, Martin Mull, and Harry Shearer.
Kevin joined the Chabad Telethon team as Creative Executive in 2003.
Vice Chairman – Michael Helfant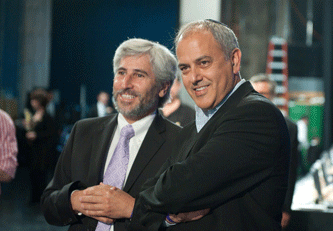 Michael Helfant with friend Rick Labowe at KCET studios for
the 31st annual Chabad Telethon
Michael Helfant has over 25 years of entertainment industry experience in film, television, video and digital media production, financing and distribution. He is currently developing a new slate of films for production, and providing consulting services to a select group of clients in the entertainment industry.
Most recently, Helfant was President and COO of Marvel studios, overseeing all of the studio's live action and animation activities in film, television and video. During Helfant's tenure at Marvel, the studio launched a new slate of self-financed films including Iron Man and The Incredible Hulk. Prior to joining Marvel, Helfant was the Chief Operating Office of Beacon Pictures, a major independent motion picture production company whose feature film releases included Open Range, Raising Helen, Ladder 49, The Guardian, and The Waterhorse.
Prior to Beacon, Mr. Helfant was Senior Executive Vice President of Dimension Films, the division of Miramax Film Corp. overseeing the SPY Kids, Scream and Scary Movie film franchises among other films.
At Miramax/Dimension, Helfant was responsible for all of Dimension's business activities including production/financing, erchandising/licensing and interactive/new media.
Michael joined the Chabad Telethon team as co-chairman in 1999.